This is far from your typical Cigar of the Month club.
---
Standard & Twain is a tasting experience that allows you to decide without bias which cigars you enjoy most----an ongoing adventure to hunt for, curate, age and discover your favorite cigars. We hope to challenge what you thought you knew, and other times surprise you with cigars you didn't know about, but are glad you do now.
The idea for a blind cigar tasting subscription began with old friends. All back in town for Christmas, we knew just a normal cigar night wouldn't do. So we each purchased the best cigars we could find, removed the labels, and traded cigars. Then, we smoked. We didn't know the country or maker of the cigar, and we had no bias from the brand name. We learned about the cigar once we were finished. It was something that was seemingly reserved only for cigar magazine editors, and we knew there must be a way for all cigar lovers - not just the 'aficionados' - could take part in as well. That night became an annual tradition, and with each passing year we wished others could share in the experience.
Fast forward a few diligent years, and after forming relationships with brands, figuring the production process, jumping through regulatory hoops, creating packaging and developing our one-of-a-kind Cigar Reveal, Standard & Twain was born.
Of course we needed a bit of inspiration along the way, and that came from the original blind cigar smoker, Mark Twain. In a letter he penned called Concerning Tobacco, he wrote: "It is a superstition that a man has a standard of his own. He thinks he has, but he hasn't. He thinks he can tell what he regards as a good cigar from a bad one, but he can't. He goes by the brand, yet imagines he goes by the flavor."
This is far from your typical Cigar of the Month club - it's an invitation to hunt for new cigars, explore new brands, and find your standard of cigar. No ads, no fancy labels. Just the tobacco, the smoke and your standard.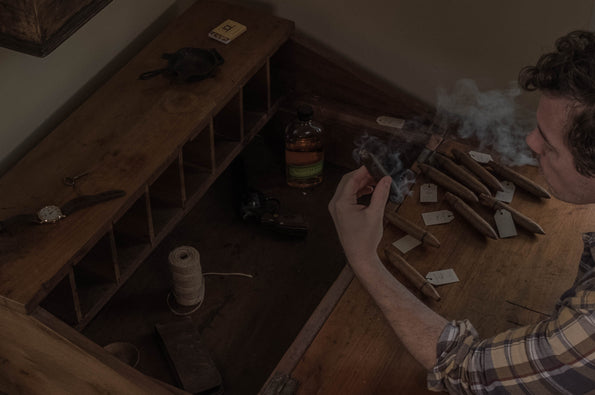 Standard & Twain is a new venture from industry veteran Kellen Gorbett, who got his start in Nashville working under CAO Int. President Tim Ozgener. He became a regular contributor for cigar publications like Cigar Press, Smoke Magazine, Cigar Journal and Tobacco Business Magazine. After the sale of CAO, he went on to work and study tobacco around the world in areas like Esteli, Nicaragua and Kaua'i, as well as working retail in the States. he lived in Spain for several years before returning to Nashville to work with Jon Huber at Crowned Heads. After seeing a gap in the cigar subscription business, he founded Standard & Twain to create an experience where cigar lovers can discover new cigars free of brand bias and marketing gimmicks.